LAU MEPI TL administration
Program administrators
Dr. Elise Salem
Vice President for Student Development and Enrollment Management
Ph.D., Literature, University of North Carolina, US
Dr. Elise Salem joined LAU as the Vice President for Student Development and Enrollment Management (SDEM)in July 2008. The SDEM office is committed to the development of LAU students through the offering of student- centered services, program development and co-curricular engagement activities. In her role, Dr. Salem oversees the university's student development and enrollment management across seven schools. She has restructured her unit to separate enrollment management from student development, while setting admissions deadlines and requiring standardized tests for admissions, in addition to enhancing recruitment efforts to increase the pool of applicants and raise admissions standards. Dr. Salem is also keen on reforming the student election process and on establishing required workshops on democratization and conflict resolution to student leaders.
Mr. Abdo G. Ghié
Assistant Vice President for Enrollment Management
Program Recruiter, LAU MEPI-TL Scholarship Program
Masters, International Management, École Nationale d'Administration Publique, ENAP, Canada
Mr. Ghié oversees the offices of Admissions, Financial Aid and Scholarships and the Registrars on both the Beirut and Byblos campuses. He coordinates with deans and senior administration to identify enrollment goals and leads enrollment management initiatives to achieve those goals. Working towards implementing the university's new Strategic Enrollment Management Plan, Mr. Ghié develops, modernizes and spearheads all projects related to the Enrollment Management unit, in order to better serve LAU students. Mr. Ghié is working toward increasing standards of admission and works closely on developing LAU's effort to offer more university services online. He is also implementing the new Financial Aid and Scholarships Plan to offer more financial assistance, in the form of scholarships and loans, to prospective and current LAU students.
Email: abdo.ghie@lau.edu.lb
Tel: +961 1 786456 ext. 2142/1588/1589
Mrs. Dina Abdul Rahman
International Services Associate Program Manager
Program Director, LAU MEPI-TL Scholarship Program
Master's in Business Administration, Lebanese American University, Lebanon
Mrs. Abdul Rahman joined LAU in 2007 and had a diversified journey within several SDEM departments including academic advising, outreach and civic engagement, and study abroad. She established the Office of International Services in 2016 and has been working since with LAU Schools and offices on increasing LAU's international programming, and consolidating LAU's services to international students.
Email: dina.arahman@lau.edu.lb
Tel: +961 1 786456 ext. 1349
Dr. Jean Takchi
Associate Professor of Mathematics
School of Arts and Sciences (Byblos)
Academic Coordinator, LAU MEPI-TL Scholarship Program
Ph.D., Mathematics, Pennsylvania State University, US
Dr. Takchi is an associate professor of Mathematics. He joined the Lebanese American University in 1992. His research interest was Algebraic Complexity, and he is now working in a different area, namely non-smooth analysis and its application to control theory. He teaches Calculus courses, Differential Equations, Numerical Methods. He was a professor at the Lebanese University from 1985 until 1992.
Email: jtakchi@lau.edu.lb
Tel: +961 9 547262 ext. 2321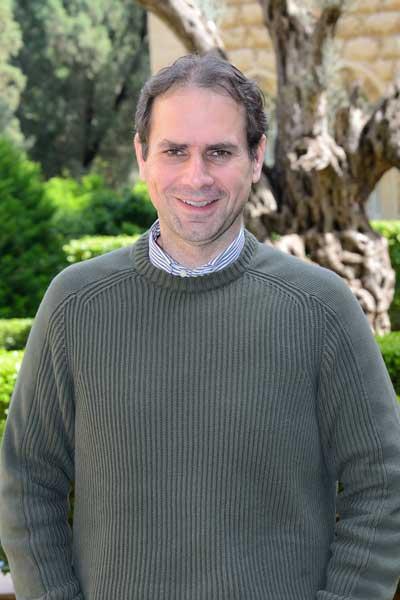 Dr. Ramzi A. Haraty
Associate Professor of Computer Science
School of Arts and Sciences (Beirut)
Capstone project Coordinator, LAU MEPI-TL Scholarship Program
Ph.D., North Dakota State University, USA
Dr. Haraty's research interests include database management systems, Arabic text processing, and information security. He has written over 120 books, book chapters, and journal and conference paper publications. He is a member of the Association of Computing Machinery, Institute of Electronics, Information and Communication Engineers, and the International Society for Computers and Their Applications.
Email: rharaty@lau.edu.lb
Tel: +961 1 786456 ext. 1285
Ms. Reine Azzi
Program Director, LAU MEPI-TLG Scholarship Program
Ms. Reine Azzi received a scholarship from the European Commission to join the Erasmus Mundus program, where she graduated with distinction in European Humanities, with an emphasis on literature and gender studies. Prior to joining LAU, Azzi worked for an international NGO, where she served as a reporting officer and monitoring manager on a number of programs in South Lebanon and Nahr El Bared. At LAU, she teaches literature, language, and philosophy courses. She is also the licensee, curator, and host of TEDxLAU, the first independently-organized TED-like university event in Lebanon. She is currently pursuing an Ed.D. in TESOL at the University of Exeter in the United Kingdom, focusing on critical applied linguistics and the teaching of English in Lebanon.
Email: reine.azzi@lau.edu.lb
Tel: +961 1 786456 ext. 1742
Dr. Tamirace Fakhoury
MEPI TLG Academic coordinator
Dr. Tamirace Fakhoury is an associate professor of political science and international affairs in the Department of Social Sciences at the Lebanese American University (LAU), and the director of the Institute for Social Justice and Conflict Resolution (ISJCR). Dr. Fakhoury was a visiting assistant professor in the summer sessions at the University of California in Berkeley between 2012 and 2016. In 2018, she earned a research fellowship at the Käte Hamburger Kolleg/ Centre for Global Cooperation Research at the University of Duisburg-Essen where she conducted a project on the European Union's role in the polycentric governance of displacement. She has published widely on power-sharing in divided societies, migration and refugee governance in the international system, and the European Union's external governance approach.
Email: tamirace.fakhoury@lau.edu.lb
Tel: +961-1-786456 ext.2470
Mrs. Rita Bassil Javaro
Program Coordinator, LAU MEPI-TL Scholarship Program
Mrs. Javaro graduated in 2010 from Académie Libanaise des Beaux-Arts (Alba) with a Masters in "Création Publicitaire". Mrs. Javaro is responsible for keeping the LAU MEPI TL website up-to-date and assisting in administrative program-related work, among other tasks.
Email: rita.javaro@lau.edu.lb
Tel: +961 9 547262 ext. 2822
Mr. Hisham El-Delbani
Assistant Program Coordinator, LAU MEPI-TL Scholarship Program
Mr. EL-Delbani hold a Master of Business Administration from Devry Graduate School of Management in NY with a Bachelor of Science in Business Administration from Brooklyn College in NY. Determined and ambitious. Management Professional with 10 years of experience in multiple industries ranging from Private Business to NGO's and Education sector.
Email: hisham.eldelbani@lau.edu.lb
Tel: +961 1 786456 ext. 1996
Mrs. Siham Kebbi
Co-curricular Coordinator , LAU MEPI-TL Scholarship Program
Siham holds a Master's degree in Business Administration from the Lebanese American University, with a Bachelor's degree in Business Administration from the American University of Beirut. She enjoys more than seven years of experience in higher educational institutions. She also added two years of teaching practice to her career path as well, where she complimented her experience with an earned Teaching Diploma in Education from the American University of Beirut.
Email: siham.kebbi@lau.edu.lb
Tel: +961 1 3791314, ext.3402
Mrs. Sara Al Naboulsi
Internship Coordinator, LAU- MEPI TL Scholarship Program
As a current Masters student in HR Management at LAU, Sara Al Naboulsi is a people-oriented person that aims to find peoples' perfect match in recruitment. As the Internship Coordinator in our team, she hunts for the best opportunities for our students to increase their chances of employability and help building up their personality and career. She supervises their internship process while ensuring that they engage not only Professionally, but also Civically. Her strong communication and event planning skills qualifies her to build long-term connections with Institutions to ensure a smooth experience for TLers.
Email: sara.alnaboulsi@lau.edu.lb
Tel: +961 1 786456, ext.3401
Ms. Line Samaha
Welfare Officer, LAU MEPI-TL Program
Line Samaha, TL Welfare Officer, helps students during the different stages of the program and provide them with the needed skills to foster their wellbeing and integration on campus.
Samaha equips students with tools to face and surpass the challenges that they might encounter throughout their academic path. Samaha offers a wide range of workshops and sessions with the objective to maintain a positive environment, enabling students to focus on solutions and reach high academic performance. Drawing on 15 years of experience in the social work field, Samaha now focuses mainly on students' growth and skill development on academic, personal and social levels.
Email:line.samaha@lau.edu.lb
Tel +961 1 786456, ext. 3952
Ms. Christine Fares
Communication Officer, LAU MEPI-TL Scholarship Program
With 13 years of experience in the corporate communication industry, Ms. Fares' role consists of portraying MEPI students' activities and achievements in different media tools and hence participating in the program's exposure locally, regionally and internationally.
Email: christine.fares@lau.edu.lb
Tel: +961 1 786456 ext. 1190
Amr Slim
Social and Cultural Committee Advisor, LAU MEPI-TL Program
Known for his versatility and virtuosity, described as "expressive and ghostly wailing [playing] of a kind never heard from the instrument before, Egyptian hornist Amr Selim is a soloist, chamber musician, and educator; drawing audience wherever his horn takes him by his distinctive sound across different musical genres. Born and raised in Cairo, Egypt, Amr held his first job with the Cairo Symphony Orchestra at the age of 16; he later moved to the US where he worked with many world-renowned musicians and ensembles.
A winner of several solo and chamber music competitions, Amr is also a founding member of a few groundbreaking ensembles such as Tarmu Wind Sextet and Common Sounds; through both, he has brought a fresh and daring dimension of the horn. Dr. Selim founded the very first Performing Summer Arts Camp in the Arab Region, and continuously works on enriching youth's lives through music and arts.
Dr. Tarek El Masri
Political and Governance Committee Advisor, LAU-MEPI TL Program
Dr. Tarek El Masri holder of Bachelor in Business Administration degree from the Rafik Hariri University, Master of Business Administration from the American University of Beirut, and PhD in Business Administration, Accountancy from University in Montreal, Canada. In recognition of his high scholastic achievement, Dr. Tarek El Masri has been selected for lifetime membership in Beta Gamma Sigma, the international honor society for collegiate schools of business. In 2018, he has obtained the Ethical Leadership Certification from the National Association of State Boards of Accountancy Center for the Public Trust, USA. Currently, Dr. Tarek El Masri is an Assistant Professor of Accounting at the Lebanese American University. Along with teaching Financial and Managerial Accounting at both the undergraduate and graduate levels, he researches several topics related to governance with a particular focus on the corporate governance of family firms for what they represent in importance to the world economy. His research has won several awards in Canada such as the National Bank Initiative in Entrepreneurship and Family Business Award and the Bell Research Centre – Scholarship Award.
Mrs. Myriam Sfeir
Gender Committee Advisor, LAU-MEPI TL Program
Myriam Sfeir joined the Arab Institute for Women (AiW) in 1996. She is currently the Director of AiW. Previously she served as senior managing editor of Al-Raida, the double-blind peer-reviewed journal published by AiW. She has worked on several groundbreaking issues of Al-Raida that dealt with various subjects considered taboo in the Arab world (sexuality, honor killings, incarcerated women, homosexuality, etc.). She has also worked extensively on issues related to gender rights and has organized several conferences, film festivals, and lectures at LAU. Myriam is knowledgeable on issues related to human rights, gender-based violence, and sexuality. Myriam earned her Bachelor degree in Philosophy from the American University of Beirut and her Master's degree in Interdisciplinary Women's Studies from the University of Warwick, United Kingdom.
Email: myriam.sfeir@lau.edu.lb
Tel: +961 1 786456 ext. 1288
Grant administrators
Mr. Simon Sakr
Assistant Vice President For Finance-Corporate Affairs
Grant Coordinator, LAU MEPI-TL Scholarship Program
M.B.A., Lebanese American University, Lebanon
Maitrise Physics, Lebanese University, Lebanon
Mr. Sakr handles all aspects of central corporate finance and accounting for LAU and its affiliated entities. He Leads the team responsible for LAU's compliance with American and Lebanese taxation and audit requirements, treasury and Investments, financial reporting, local and U.S. compliance. He also manages the university's financial data system.
Email: ssakr@lau.edu.lb
Tel: +961 1 786456 ext. 1370