Visit to Arc-en-Ciel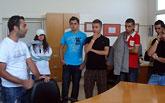 On September 26, 2009, the students visited the premises of Arc-en-Ciel in the Bekaa. Mr. Ghassan Wehbe presented the mission and projects of the organization, and also led a tour of the site's various departments, workshops, daycare, and clothes distribution center. The highlight of the event was an explanation of how the handicapped members themselves work on the production of wheelchairs.
The students were also introduced to the campaign that collects plastic bottle caps to support the production of wheelchairs. Many of the students are actively engaged in the collection of caps and their delivery to the main offices of Arc-en-Ciel.