MEPI-TL Capstone Presentation Day 2022
Innovative community development projects drive hope for Arab countries
With students back on campus, colorful poster presentations returned to the Adnan Kassar School of Business lobby showcasing students' visionary ideas to develop their home communities – an LAU tradition that is the Middle East Partnership Initiative Tomorrow's Leaders Program (MEPI-TL) Capstone Project Presentation Day.
Coming from all over the Arab World, 27 MEPI-TL undergraduate scholars enthusiastically pitched their ideas to their peers, faculty, staff and jury members. They could hardly contain their excitement as some projects had been over a year in the making, despite the pandemic and ensuing travel restrictions to their home countries.
In his address, Associate Professor of Computer Science and MEPI-TL Capstone Project Coordinator Ramzi Haraty offered some background on the purpose of the capstone project endeavor. "We try to instill in our students an eye for the outside world, which holds a lot of challenges," he said. "As future leaders, [the students] need to look at these challenges and be empathetic, sympathetic and systematic in arriving at the solutions," he added. Dr. Haraty also heartily thanked the students' faculty advisors Professor Azzam Mourad, former Assistant Professor Berna Rahi, Associate Professor Jordan Ludders Srour, Assistant Professor Moustafa Haj Youssef and Associate Professor Hussein Hassan. MEPI Coordinator at the US Embassy David Lewis commended the students' "courage and foresight to see a problem and present viable solutions." He expressed his pleasure that the US Government is investing in them as future leaders and underscored the strong partnership with LAU. LAU MEPI-TL alumna Rasha Shalha (BA '17; MA '20), who is currently a project coordinator for the National Committee for Lebanese Women and UNICEF, gave a word of advice to the TLers as they gear up for graduation. "Macro change always starts with small efforts," she said, "so never underestimate your abilities."
Before announcing the winners, MEPI-TL Executive Director Dina Abdul Rahman praised the students' perseverance in extremely tough circumstances. She announced that 13 projects had received honorable mentions and congratulated the students on their hard work.
The first-place winner was Tunisian student Farah Haj Amor, who is majoring in psychology and minoring in performing arts. Her project, Spect'Art, proposes a drama therapy program tailored for children on the autism spectrum.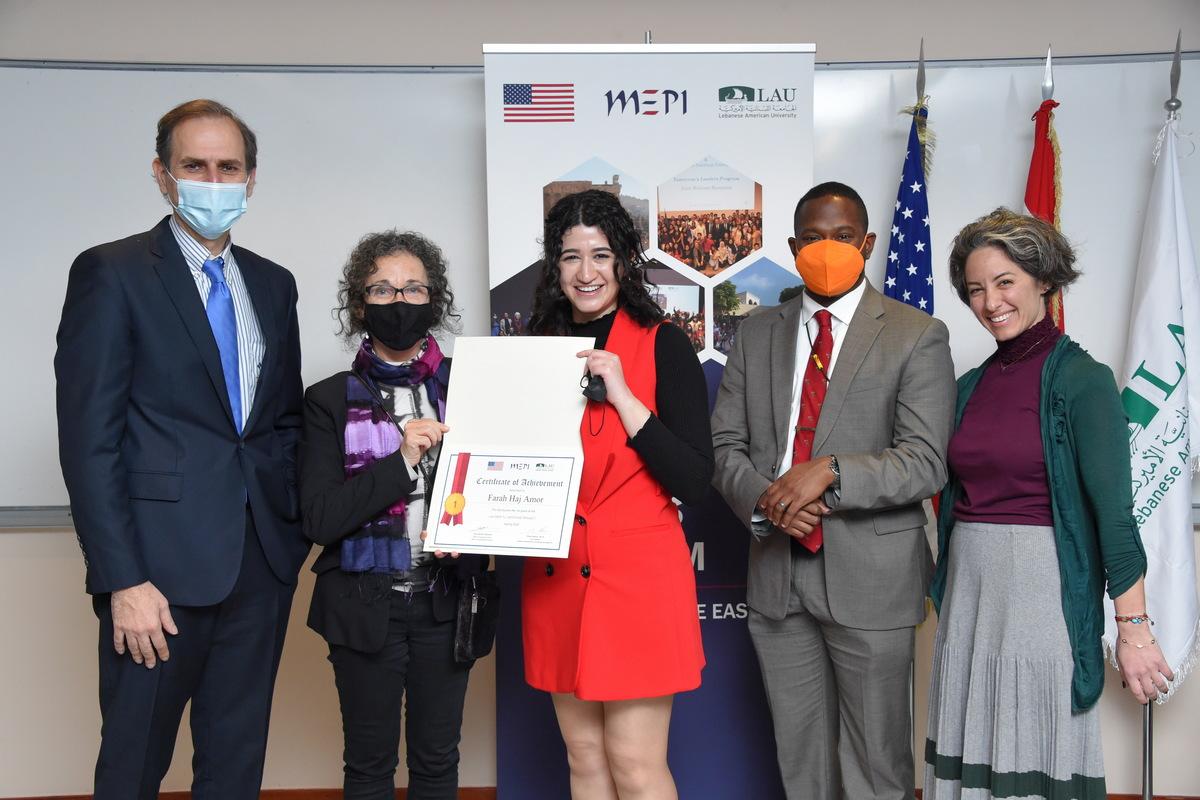 In second place came Lebanese biology major (pre-med) Georges Aoun. His project, Aurora Health Center and NGO, hopes to spread awareness on sexually transmitted diseases and provide patients with vaccines and treatments.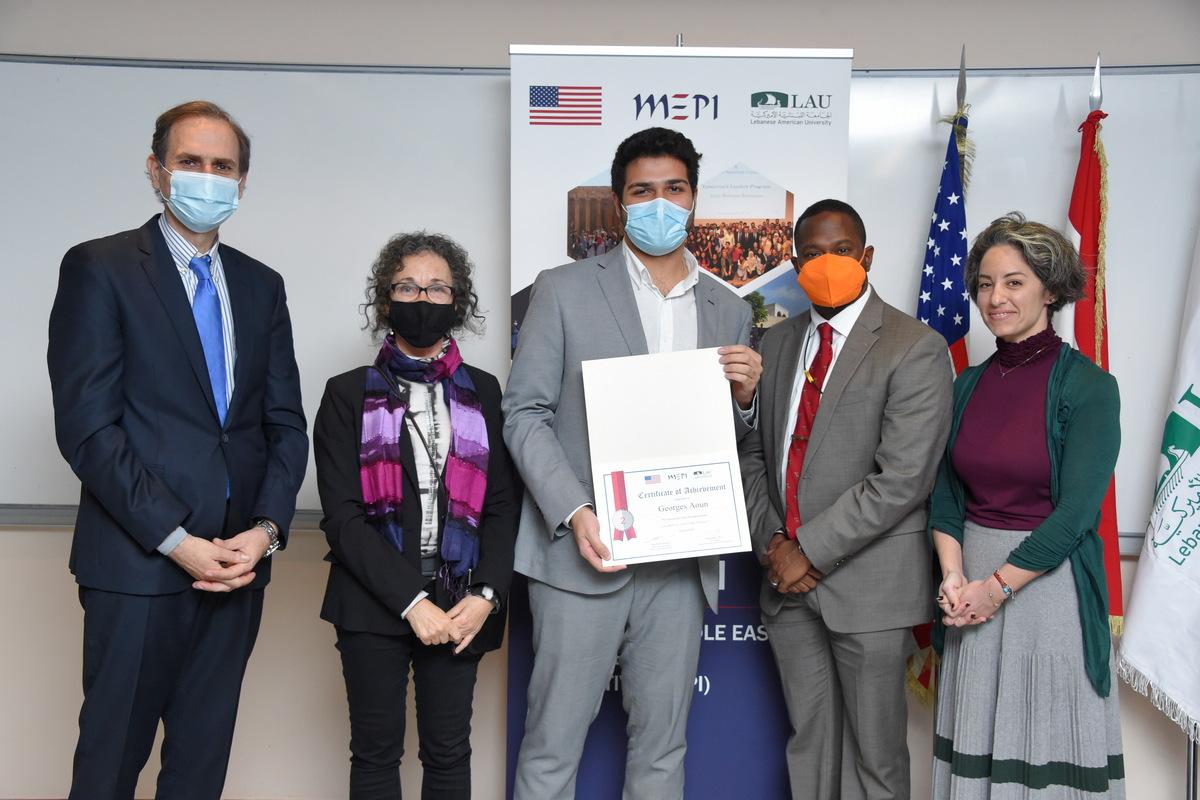 Lebanese math major Diditta Rizk took third place for her project, Come to Life, which promotes eco-tourism and eco-friendly workshops.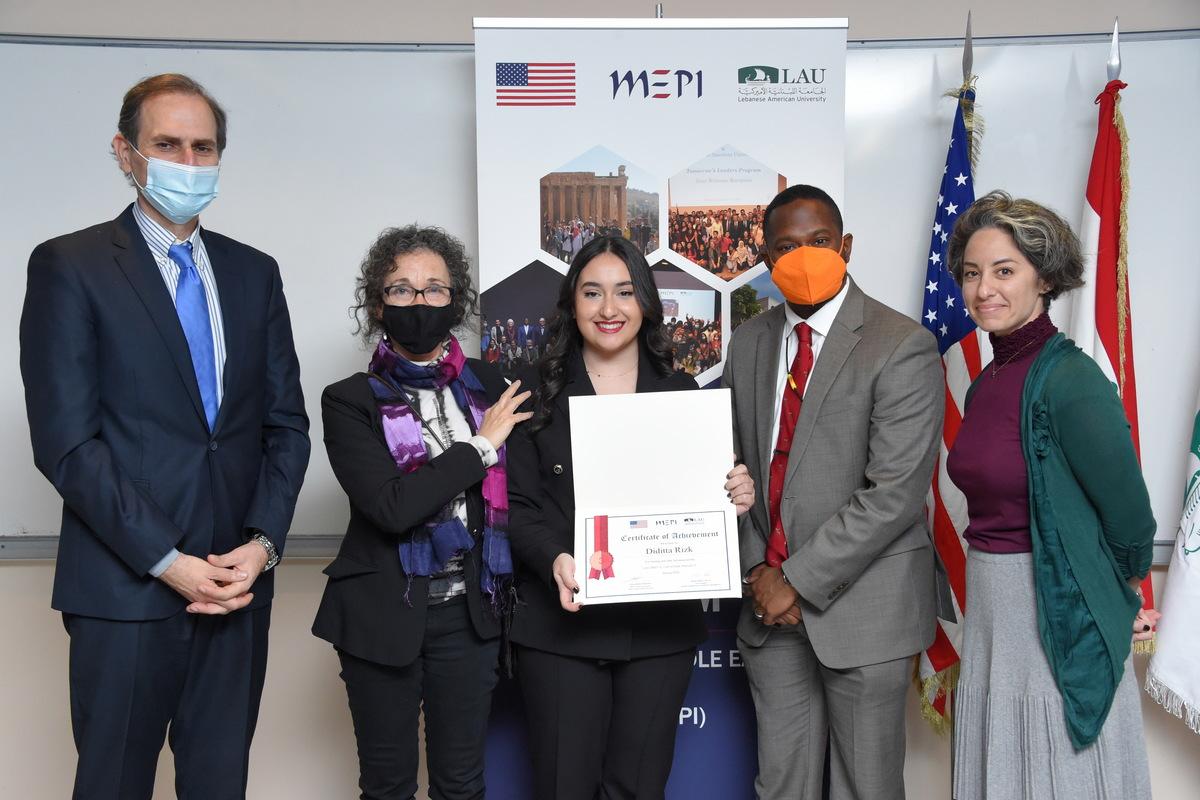 The MEPI-TL graduating cohort received certificates of participation in the Capstone Presentation Day, which were presented to them by Lewis, Dr. Haraty and LAU Vice President for Student Development and Enrollment Management Elise Salem.